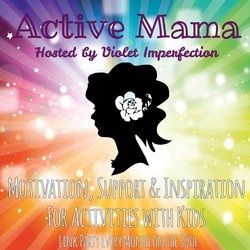 This is my 3rd month of participating in the Active Mama Series. So far this has been the most difficult month to be an active mama. Here is a look back on what we did do.
1// We finally made it to The Wonder Place. I've been wanting to go for awhile and the stars finally aligned and we were able to make it happen. Jack absolutely loved it. You can read more about the whole experience here.
2// For my birthday I really wanted the family to go to the zoo. I got my way and we had lots of fun. I don't have any pictures for you yet but I will soon.
3// There have been a few fairly nice days here in Arkansas. On those days we head outside because Jack loves being outside . He is obsessed with sticks. After hanging around the yard, I decided a trip to the park would be the right move. It allowed me to get a little walking in and he got to do his favorite thing, swing.
4// I wanted to do a spring art project with him so I found a cute picture on Pinterest where you use the hands and feet to make a flower. We've always been able to do art projects before with no problem. Not this time. When I put the paint on his feet he grabbed at it and stuck his hands on his face and in his mouth. He never fussed but you could tell he didn't like me painting it on him. I hurried this project alone.
The big things this month were going to The Wonder Place and the Little Rock Zoo. Both events were wonderful! We are spending more and more time outside as it continues to warm up. Since Jack absolutely LOVES being outside we will be out there as much as possible.