Well it has been one week since we started the Practice Makes Habit link-up. For the entire week I would give myself a solid C. Things got quite chaotic. Chaos should not be an excuse because really that's the point. I need to be able to tackle my goals even during craziness.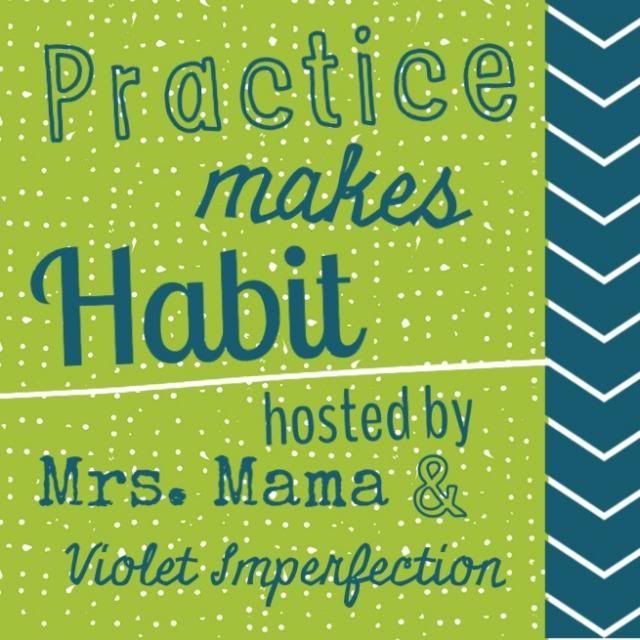 Day 1: I did great! I crossed off all of my goals and went to bed filling positive.
Day 2: Things were still going well except that I realized my pedometer broke. This was the second one so I decided to cross that one off my list because I am not buying a new one right now. I think I get up and down too much which causes it to come loose and fall off. I'm sure a more expensive one wouldn't break as easy but I'm not buying a new one right now.
Day 3: Things started going downhill. J was actually home and he slept in right up until we needed to leave the house. I didn't have time to make the bed but on the plus side we weren't home so it kinda didn't matter. Since we were gone so long that day I didn't drink all of my water. I did get the dishes done and the to do list made.
Day 4: Saturday sucked. Jack got up at 4 am. J's alarm went off at 4:50 am for him to go to work. When he tried to leave his car wouldn't crank. We knew it was on the fritz but we wanted a little more time without having another car payment. He had to take my car to work. I was on the phone most of the day calling dealerships while Jack was being super fussy. I made my to do list, did the dishes, finished my water from Friday, and made my to do list.
Day 5: Sunday my parents came over to get Jack mid-morning because my mom was going to watch Jack for me while I went to in-service at the school. I had the house to myself so I enjoyed myself. I did do a little work but mostly I watched lots of tv and took a nap. I didn't finish my water but I drank a lot. I did not make the bed or do the dishes. I will say the house was in complete disarray because all of the living room furniture was in the kitchen so a few dishes didn't seem to matter. I also didn't make a to do list because all I really had to do was go to work.
Day 6: Going back to work was hard. I've been looking forward to it and overall I enjoyed myself but it was hard on my body. Hard on my body because of all the sitting we had to do. I do a lot of moving so sitting in those hard chairs was not fun. I drank a lot of my water but would have finished it if I would have actually taken my bottle with me. I drank most of it while helping J move furniture back. I still haven't done the dishes because the computer desk is in front of the sink and will not be getting moved until tomorrow. The bed also didn't get made until bedtime. The to do list got made!
Day 7: We bought J a new car today. We needed something that he could use just for driving back and forth to work so we wanted to get something good on gas mileage. We ended up buying a Chevrolet Sonic which gets really great gas mileage. It sucked so much doing all the paperwork and blah blah back and forth. I was still able to do the dishes and drank my water! I also made the bed and did the to do list.
What I've learned:
-I missed drinking water and I'm glad this is one of my goals.
-I hate pedometers that break.
-Making a to do list is easy but accomplishing the items on the to do list...not so much.
-Making the bed each day is something I have to stick to because I enjoy having that done each night.
-The dishes is not a fun task but waking up to having them done just makes the day start off on a plus.
I've decided to add another goal since my pedometer broke. My new goal is I will enter and balance my checkbook once a day. I have a tendency to let those receipts pile up in my wallet and then I write them and balance only when I am about to spend a bigger amount.
If you want to join in you can. Just write up your goals and link-up. start InLinkz script -->